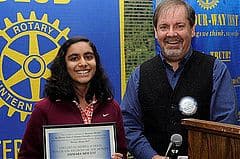 Each month during the past school year, the Rotary Club of Greater Corvallis acknowledges and recognizes eighth grade students who exemplify Rotary's ideal of "Service Above Self." Students are nominated by their teachers at Corvallis area schools: Cheldelin Middle School, Linus Pauling Middle School, Ashbrook Independent School, Zion Lutheran School, and Franklin School of Choice.
Recognized students are chosen because they reflect the values of leadership, volunteerism, honesty, and integrity. Each student is a role model for others and a solid young citizen of Corvallis.
These students of the month and their families are invited to attend the Rotary luncheon, where they are recognized for their accomplishments with a certificate and bookstore gift certificate. To nominate a student, contact Gerry Kosanovic, drgerryk@gmail.com.