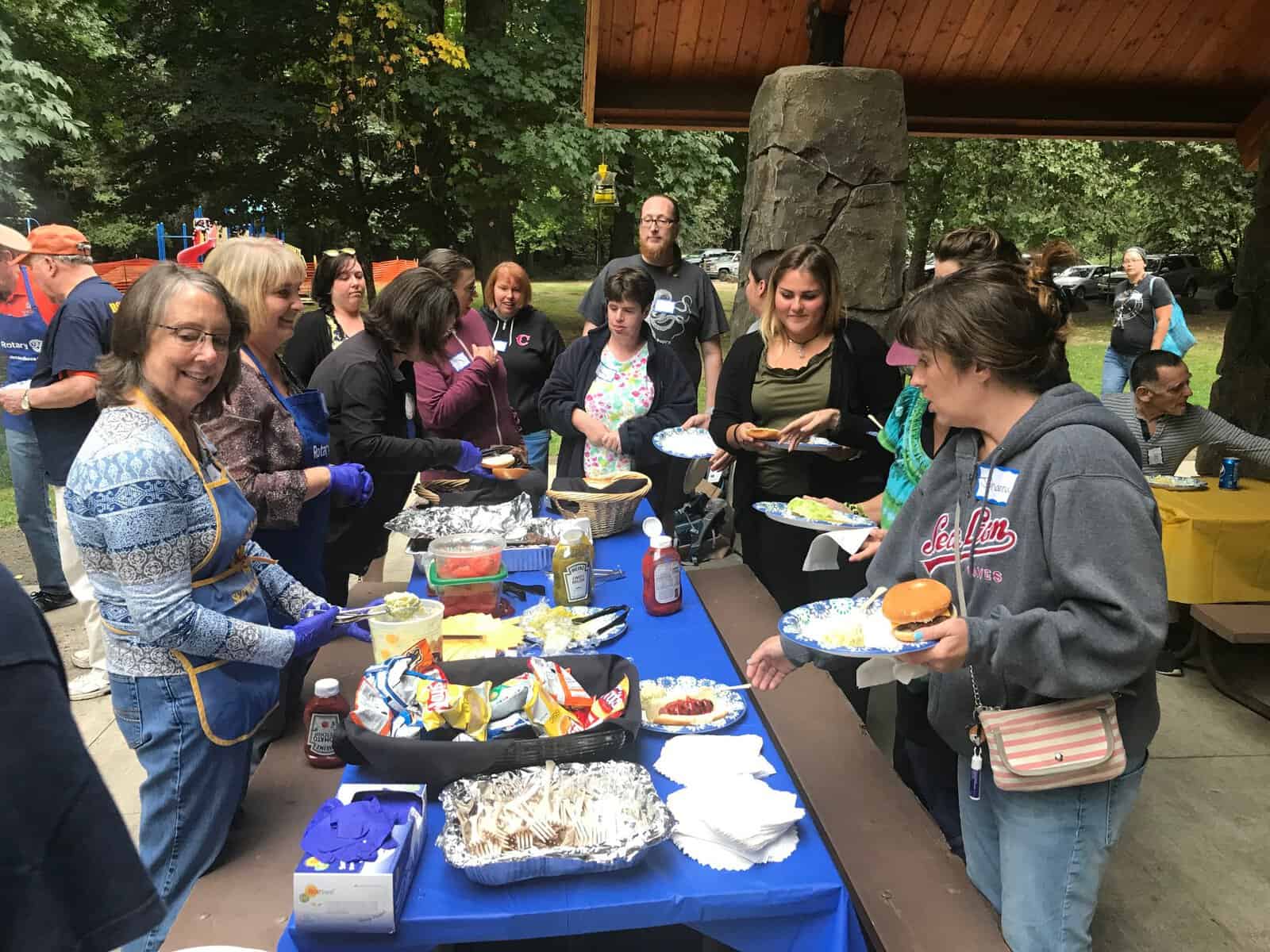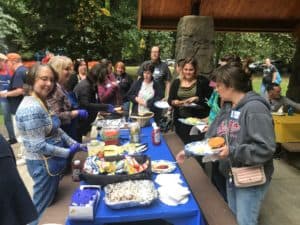 The Special Friends Picnic marked its 41st year as the longest running community service project for Rotary Club of Great Corvallis.   Each year since 1987 our rotary club has invited adults from across the community to enjoy a picnic and activity in the park. Community organizations invited this year included Special Olympics, Homelife, Benco, Work Unlimited, Cornerstone, Personalized Independence, The Arc, Collaborative Employment Innovations, Love Inc. At the picnic Rotarians barbeque and serve tasty food and all are invited to enjoy conversation and fun outdoor activities together.   In recent years the picnic is hosted in the Rotary shelter at Willamette Park. This year we invited all guests to paint "Rotary Rocks" for spreading positive messages throughout the community all year long. Painting turned out to be a relaxing and fun way to spend time together.
Rotarian Stephen Fuller was the originator of this event during Gary Campbell's Presidency, 1987-88. It was first called the "Handicapped Picnic" with the event at Walnut Park (now called MLK Park). The first year we did a softball game to mirror a sporting activity similar to Special Olympics, and then a Barbecue at the Barn. The softball aspect was okay, but the barbecue and social and interaction with the Rotarian's was the big hit. Over time the name changed to "Special Needs." After Stephen, each Rotarian who chaired it added creative aspects. We once had a Sky Diver drop down to the picnic, one year we had a string quartet. Stephen remembers Kathleen Hutchinson added a water balloon toss which turned into a water fight and they loved that.
How did our club come up with such a long honored event? Stephen Fuller tells us he thought of the idea because his daughter Amber is a "special needs" person. Steve was asked during Gary's year to chair Greeters. Stephen says that in those days you had to be the greeter each week and like most young Rotarian's he was trying to make a living and had no desire to do that. Reportedly Stephen upset President Gary when he called the Greeters chair a "Candy A$$ Assignment". Right away Gary called Stephen and asked him what he wanted do instead. "Why don't we do something in the community for a disadvantaged group, where we do something for them they otherwise would never have." Stephen answered. And thus was born the "Handicapped Picnic." Stephen's daughter still attends it each year. She will come over to Stephen's house and tell him she saw his friends at "The picnic."
The Special Friends picnic is a great example of how the Rotary Club of Greater Corvallis rallies around the good ideas of its members. Yearly club activities are a wonderful mix of long honored traditions like the picnic and new ideas held by new members such as Erica's idea to support the Youth Mental Health Coalition and Tammy's Toiletry Drive.  Thank goodness Stephen didn't want to be the club Greeter.   Forty-one years later the club tradition of celebrating the summer with special friends lives on.