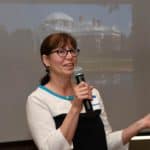 Lynne McKee may currently serve as the director of the Benton County Fairgrounds, but her previous work as an FBI agent involved with investigations of stolen art is fascinating. McKee shared her interesting story with the Rotary Club of Greater Corvallis at its Friday, May 26 meeting at the Corvallis Country Club.
As an FBI employee stationed in Washington, D.C., she confessed to having touched "Thomas Jefferson's underwear" at a museum where the third U.S. president's clothing is on display.
On the issues of stolen art, McKee confessed that the issue is a global problem more prominent worldwide than in the United States. She spoke about such stories as the Lord of Sipan Grave Goods were stolen from an underground Peruvian grave site and attempted to bring them into the United States.
While McKee enjoyed her position with the FBI, she is delighted to be in Corvallis, Oregon, enjoying the environment and community.