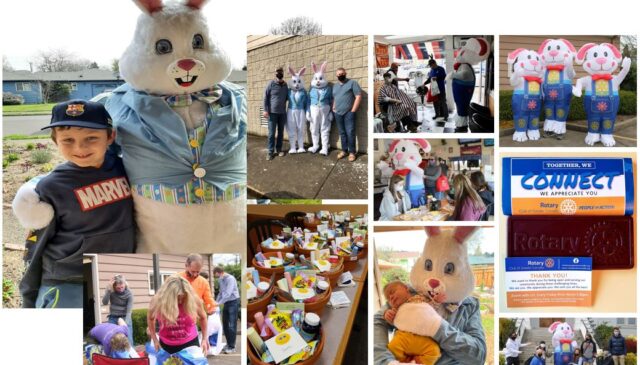 Here are some fun facts about our April 3rd Spring Shenanigans:
We sent 5 Rotary Bunnies out into our community to spread some Rotary Magic – 3 members in inflatable costumes (Bronwyn Evans, Anthony Thompson, and Kathleen Hutchinson) and 2 members in fuzzy costumes (Steve Vondra and Rylee Henderer).
8 club members were on our inspiring planning committee. Thank you to: Claudia Hamilton, Inge King, Carollee Woodstock, Richard Tirrell, Lee Eckroth, Helen Higgins, Michelle Goodrick, and Jenny Bouman.
13 club members volunteered their time to help the day of the event. Thank you to: Bob Bartlein, Lee Eckroth, Scott Elmshauser, Bronwyn Evans, Dave & Rylee Henderer, Amy Hunter, Kathleen Hutchinson, Gerry Kosanovic, Elizabeth Schroff, Anthony Thompson, Richard Tirrell, and Carollee Woodstock.
120 specially designed Rotary chocolate bars were created by Burst's Chocolates that our inflatable bunnies and helpers handed out to downtown business owners.
34 Rotary kids received festive terracotta "Happy Pots" from our Fuzzy Bunnies.
Garland Nursery donated 70 packets of herbs and flower seeds for our "Happy Pots".