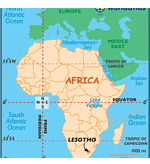 "Teaching math was not the most important thing I did, but being a role model for the kids was."  So says Thomas Lindner, Corvallis resident and Hewlett Packard physicist, about his experience with youth in Lesotho, South Africa. Lindner spent two years in the Peace Corp, formally as a math instructor.  His experience, however, led him to realize how important being a role model was for Lesotho's children.
Lesotho is very far south in Africa.  A community of two million, 200,000 are orphans and 24 percent have HIV.  Living conditions are "harsh," Lindner said describing his 12 by 75 square-foot home with no running water in a dry, cold climate.  He explained that the citizens are poorly nourished and that Peace Corp volunteers bring "hope."
While Lindner was hired to teach basic math to ninth through 12th graders, he also taught life skills and helped the community start GLOW — Girls Leading Our World.