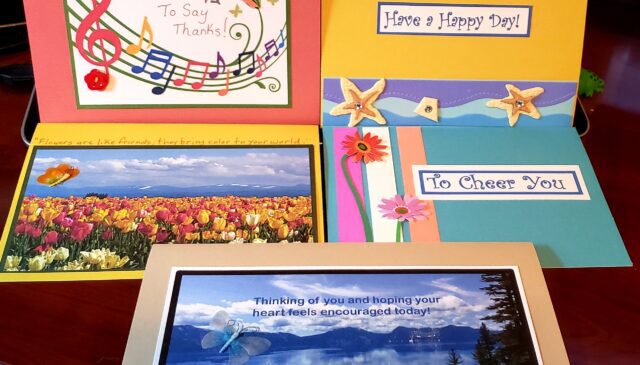 Are you looking for something to do during these trying times?
Do your kids need a project to occupy their time?
Our Rotary Club could use some help! The residents in our local senior centers, nursing homes, and assisted living communities, due to the Covid-19 lock-downs, are feeling alone during this stressful time. Reaching out to isolated older adults is essential right now. Getting contact from the outside world helps to keep their spirits up.
Making a difference can be quite easy, yet it can make a big impact! Over the last several months, our Club has sent more than 500 note cards to all the local senior facilities. This time we hope to be able to send cards to all residents at Regency Park Place and Conifer House. We need a total of 86 note cards and a total of 30 thank you note cards for the Care Teams at both places. You, your kids, your family, your friends, your clubs, are all invited to help us write these note cards.
It's amazing how simple words of kindness and comfort during difficult times can have such a positive affect. Every tiny act we take to lift another creates a ripple effect that spreads far and wide. Even when we can't see it.
Following are snippets of a message from a daughter of one of the senior citizens who received a card from one of our Rotary members.
"My mother lives at a retirement community in Corvallis and since Covid-19 she has been very isolated. They have had to cut back on activities and social interactions for their residents. I believe the isolation and lack of stimulation has contributed to a recent decline in her memory. Tonight she told me she received a card from you. She said she couldn't remember when she got it or why she got it, but she said it was really nice and that she was keeping it in her room because it made her really happy.
I want to thank you from the bottom of my heart and let you and the Rotary Club of Greater Corvallis know that it really meant a lot to her to receive that card."
Here is information for this next batch of note cards:
DEADLINE FOR DROPPING OFF CARDS IS FRIDAY, JULY 17th
DROP OFF LOCATION: TOWN & COUNTRY REALTY – ANNEX A BUILDING

455 NW TYLER AVENUE, CORVALLIS (Corner of 4th and Tyler)
There will be a white drop off basket on the back porch of the Annex Building, near the bistro table
Questions? Contact Jenny; jenny@talk2lee.com
Make the cards appealing to all. We will not be sending you a list of names to address the cards to, so please leave a space at the top of your note for staff to write in a name – and please don't seal the envelope 🙂
Gifts for residents, such as crossword puzzles, books, word searches, are welcome. The following link has free, large print crossword puzzles and word search puzzles http://www.qets.com/crossword_puzzles.htm
The front staff will put these items into a basket with the cards for facility staff to distribute to the the residents they think would most appreciate them.
Writing back is ok for you to encourage in your cards. We suggest you include your name and address directly in the card if you wish to be pen pals. We will provide a stack of stamped, blank envelopes when we drop off the cards to the facilities, for any residents that wish to write back.
The cards can be simple, fancy, store bought, hand crafted out of construction paper…it's the thought that counts.
Thank you for making a difference!