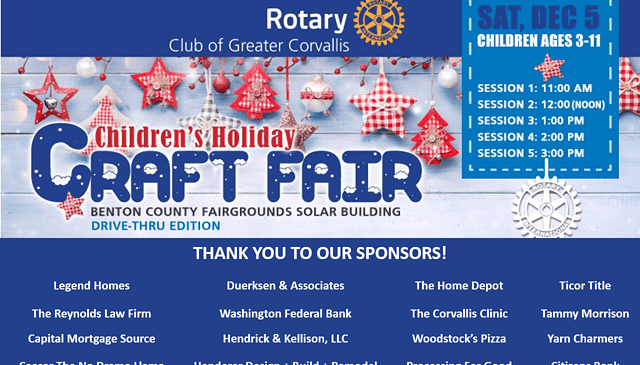 By Mike Corwin
Corvallis, OR – The Rotary Club of Greater Corvallis has developed alternative details to be able to host its seventh annual Children's Holiday Craft Fair in a COVID-safe environment from 11 a.m. to 4 p.m. on Saturday, December 5 at the Solar Building in the southwest corner of the Benton County Fairgrounds. The event is currently a go and registrations will be accepted, pending the status of the statewide restrictions not extending past the Governor's current two-week window ending December 2.

The club has coordinated with the fairgrounds through the Governor's statewide lockdown and is taking proper precautions toward inviting families to enjoy the festivities safely from their vehicles as they drive through the creatively decorated Christmas scenes. At the end of the display of scenes, each child will receive a bag filled with pre-packaged crafts to take home and make and treats to enjoy. There will be free admission, however registration will be mandatory so to accurately provide adequate opportunities for all youth between three and 11 years of age. Registration is available to families at https://www.eventbrite.com/e/rotary-presents-the-childrens-holiday-craft-fair-tickets-128933287935

"This Rotary club ran a very successful Halloween event of a similar nature and Benton County appreciates the thought that has been put into this event as well," said Lynne McKee, Director of the Benton County Fairgrounds. "I know they have provided a very special opportunity for our youth in past years and we're glad that Rotary is helping our families celebrate more safely during this exceptional year."

The club treated local youth to a similar Halloween event in the same location on October 30 handing out 1,147 bags of candy to more than 500 vehicles that went through the trick-or-treat tunnel.

"Our Children's Craft Fair has become a solid tradition over six years and it has served as a major highlight to the season for many families. We want to continue that by creating a safe experience where our children and neighbors can enjoy making positive memories during trying times," said the Rotary club's Public Image Chair Jenny Bouman.

The fairgrounds leadership is providing the site for free. Sponsors assisting Rotary with the cost of the materials, Holiday bags and the overall event set up include Benton Habitat for Humanity, Boys and Girls Club of Corvallis, Capital Mortgage Source, Central Willamette Credit Union, Citizen's Bank, CNC Wood Cutters, Corvallis Custom, Duerksen & Associates, Gillott Home Team KW Mid-Willamette, Henderer Design, Build and Remodel, Hendrick & Kellison CPAs, Home Depot, Legend Homes, Processing for Good, Tammy Morrison of Town & Country Realty, The Corvallis Clinic, The Reynolds Law Firm, The Yarn Charmers, Ticor Title, Trader Joe's, Washington Federal Bank, Windermere Real Estate, and Woodstock's Pizza. There will also be a special appearance by Caesar the No Drama Llama.

The event is being designed with two goals in mind: keeping the Holiday festivities alive this season, while also keeping volunteers and guests safe. Thus, attendees through the "Holiday Craft Fair tunnel" in the fairgrounds Solar Building may not leave their vehicles at any time during the event. Face coverings must be worn when the windows of the vehicle are open, occupants of a vehicle must be members of the same household or living unit and may not change vehicles during the event, and no motorcycles and bicycles will be permitted. There will be no food or drink offered other than the bag of treats at the end, no restrooms will be available and there will be a hand sanitizing station and extra masks available.