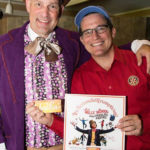 1,000 chocolate bars with possible golden tickets inside good for cash prizes up to $500 are on sale in preparation for the third annual Rotary Movie Night showing of Willy Wonka and the Chocolate Factory on Thursday, August 17, at Avery Park.
The chocolate bars are currently for sale for two dollars each at Burst's Candy, Schroff Tudor Farmers Insurance and Town & Country Realty in downtown Corvallis. Ninth Street locations include Washington Federal and Stover Neyhart and Company. They are also available through Judy Corwin at The Corvallis Clinic. Five of the Wonka chocolates include golden tickets playing off a theme of the movie and each of those tickets can be redeemed at the Movie Night for prizes ranging from $50 to $500. Other locations may be added prior to the chocolate sales on Movie Night.
Following successful annual August events featuring classics like E.T. and the Wizard of Oz,  the Rotary Club of Greater Corvallis has selected the 1971 American musical fantasy film directed by Mel Stuart, and starring Gene Wilder as Willy Wonka. The film tells the story of Charlie Bucket (Peter Ostrum) as he receives a Golden Ticket and visits Willy Wonka's chocolate factory with four other children from around the world.
Rotary's Willie Wonka will be seen throughout Corvallis between now and August 17 to promote the bars and movie. All funds raised through Rotary Movie Night are dedicated used to support Rotary's local and international efforts.
"Our Rotary club members always strive to provide a classic that can be enjoyed by audiences of all ages and Willy Wonka not only fits that bill, but also enables us to have some great community fun with the story line," said club president Mark Kalmar.  "Our two successful Rotary Movie Nights to date have drawn more than 1,500 people each August to Avery Park. We are proud to make this one an equally special evening and night for all."
For more information, call 541-760-4742 or visit: www.rotarygreatercorvallis.org.