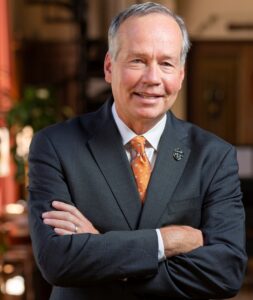 F. King Alexander became Oregon State University's 15th president on July 1, 2020. A prominent national advocate for advancing equal opportunity for all people through public higher education President Alexander brings 20 years of success as a university president to OSU.
Prior to his arrival at Oregon State, President Alexander served as president and chancellor of Louisiana State University from July 2013 through December 2019. President Alexander also served as president of California State University, Long Beach from January 2006 to June 2013 and president of Murray State University in Kentucky from September 2001 to December 2005.
President Alexander, a tenured professor in OSU's College of Education, is noted for his commitment to inclusive excellence among students, faculty and staff; his drive to provide access and an affordable education to all learners; and his support for the teaching, research and outreach mission of the land grant university. He continues the transformative momentum and impact that OSU — Oregon's largest university — has realized over the past two decades.
President Alexander holds a Ph.D. in higher education administration from the University of Wisconsin-Madison; a master's degree in educational studies and comparative education policy from the University of Oxford; and a bachelor's degree in political science from St. Lawrence University in Canton, New York, where he was a member of the men's basketball team.