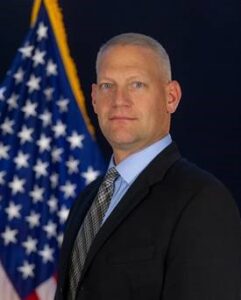 Derek I. Schmeck was assigned on May 01, 2019 to the U.S. State Department's Counterterrorism & Countering Violent Extremism Bureau to be the Military Advisor and a Senior Policy Advisor.  His portfolios include working on countering ideology and counter-propaganda; and working with the private sector on policy solutions addressing Terrorist Use of the Internet.
Before this assignment, Derek was the Strategic Engagements Advisor to the United States Security Coordinator for Israel and the Palestinian Authority.  He is an Army Lieutenant Colonel (LTC) and held numerous leadership and staff positions.  He served in various positions throughout the world to include serving in the Pentagon on The Joint Staff.
While on The Joint Staff, LTC Schmeck helped design the initial organizational structure for the Joint Staff's, Trans-Regional Threats Coordination Cell leading the Countering Violent Extremists Branch.
A Pennsylvania native, Derek received his B.A. in International Politics from The Pennsylvania State University in State College, Pennsylvania. He earned his M.S. from the Naval Postgraduate School in Monterey, California studying Defense Analysis with a focus on Joint Information Operations.