Thank you to everyone that shared their talent, time, and energy to help create this "spooktacular", covid-safe, free, family-friendly, fun, fellowship event – our Halloween Drive-Thru Trick-Or-Treat Tunnel. Perhaps it is our first ANNUAL??? In case you weren't one of the lucky ones that registered for this event, following is a link to a video of the event.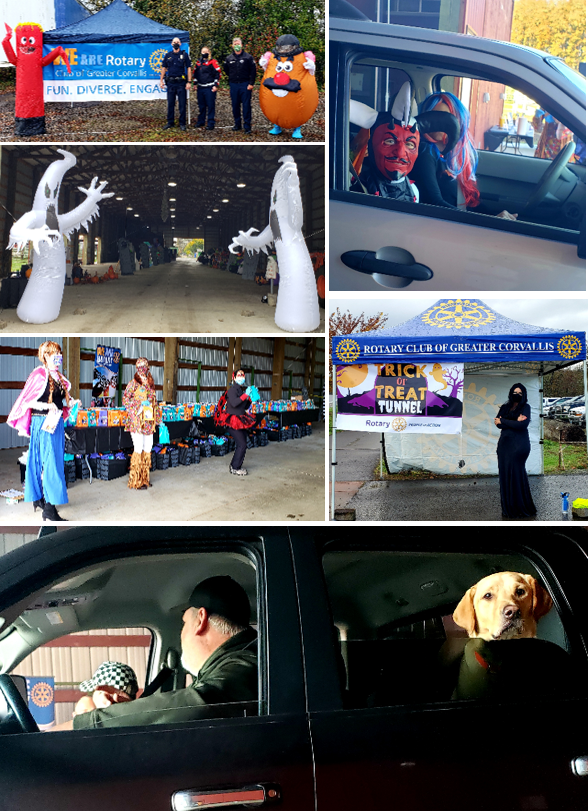 Rotary Connects Community! Following are some fun facts about the event:
Approximately 529 cars drove through.
1147 treat bags were handed out.
34 Rotarians volunteered.
6 spouses/friends volunteered (voluntold?).
1 Rotaractor volunteered.
1 LBCC mascot volunteered.
6 OSU gymnasts volunteered.
All Benton County Rotary Clubs participated by helping with decorations or donating candy.
SOOOOO many bags of candy were generously donated by Club and community members.
The Corvallis Police Department participated.
The Corvallis Fire Department participated.
The Benton County Sheriff Reserves participated.
The Fairgrounds comped the venue, chairs, tables, etc.
We had 7 generous sponsors.
1000 Save-The-Date postcards, advertising our upcoming Children's. Holiday Craft Fair – Drive Thru Edition, were handed out with the treat bags.
500+ "Thank you for registering – we look forward to seeing you" emails went out to all those that registered for the event.
1 person reached out to Kim about membership and possibly becoming involved as a result of the experience her son had.
Left over candy was donated to the Children's Farm Home.